PCSS Resources for Health Professionals, Patients and Community
These resources for treating OUD and chronic pain were developed for health professionals, patients, family members and significant others of patients and the general community to learn more about the evidence-based treatment of opioid use disorders and the treatment of chronic pain.
CDC Pocket Guide: Tapering Opioids for Chronic Pain
Follow up regularly with patients to determine whether opioids are meeting treatment goals and whether opioids can be reduced to a lower dosage or discontinued.
Minnesota Opioid Prescribing Guidelines, First Edition 2018
These prescribing guidelines address opioid use throughout the pain continuum with a particular focus on the critical treatment period during acute pain and recovery from surgeries and injuries.
Framing Opioid Prescribing Guidelines for Acute Pain: Developing the Evidence
This report recommends two frameworks—an analytic framework and an evidence evaluation framework—that medical professional societies, health care organizations, and state, national, and local agencies could use to develop CPGs for prescribing opioids to manage acute pain.
CDC Opioid Prescribing Guidelines
This guideline provides recommendations for primary care clinicians who are prescribing opioids for chronic pain outside of active cancer treatment, palliative care, and end-of-life care.
CDC Guidelines at a Glance
CDC guideline for prescribing opioids for chronic pain.
Project Lazarus and Community of Care North Carolina Pain Management Toolkits
Project Lazarus and Community Care of North Carolina developed the Chronic Pain Initiative toolkits below to provide best practices and protocols for Primary Care Providers and Emergency Departments.
PEG13: A Three-Item Scale Assessing Pain
Development and Initial Validation of the PEG, a Three-item Scale Assessing Pain Intensity and Interference
Opioid Risk Tool (ORT)
The Opioid Risk Tool (ORT) is a brief, self-report screening tool designed for use with adult patients in primary care settings to assess the risk for opioid abuse among individuals prescribed opioids for the treatment of chronic pain.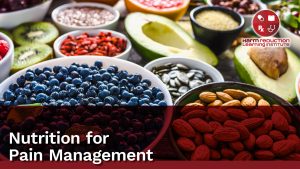 Nutrition for Pain Management
This module reviews the impact of diet and chronic illness on pain. It assists providers by improving their ability to discuss various evidence-based diets that can help to alleviate pain.