These comprehensive and diverse resources cover a wide range of Harm Reduction topics, from addiction treatment to overdose prevention. The library contains resources, tools, and information on services for both healthcare providers and the community.
Latest Resource
Community Mapping and Identifying Priority Populations for HIV Prevention and Care

This 2023 Community Mapping Toolkit for D.C. Organizations details how visualizing health disparities can help outreach programs for HIV prevention. The toolkit explores how community mapping can support your work, what goes into creating a community map, and how to use mapping tools that are available online.
Featured Resource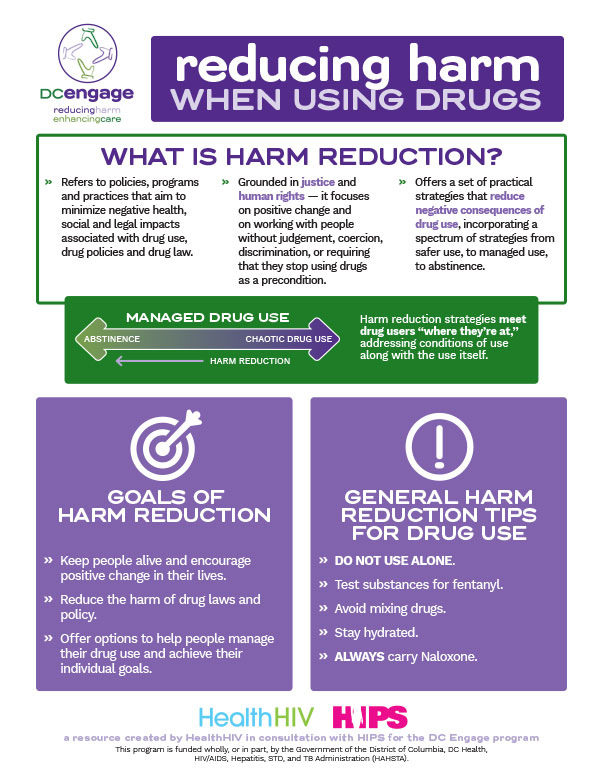 Reducing Harm When Using Drugs
This downloadable PDF provides general harm reduction tips for drug use and information on local harm reduction organizations in the Washington, DC area.
---
Resource Library
2019 Recommendations of the AMA Opioid Task Force
AMA Opioid Task Force issues new recommendations to urge policymakers to protect patients' access to evidence-based treatment and remove barriers to comprehensive pain care.
Addiction Center Glossary of Drug Street Names
Use this glossary to see the brand, generic, and street names of various drugs.
Addiction Helplines
If you need help with your opioid addiction or to get connected to resources, call the Live Long DC 24/7 Access HelpLine at 1 (888) 793-4357 or the National Rehab Hotline at 1 (866) 210-1303.
Alcohol Rehab Help: 12 Step Programs
Alcohol Rehab Help's webpage details pertinent information on creating, defining, and implementing 12-step programs.
American Society of Addiction Medicine: Appropriate Use of Drug Testing in Clinical Addiction Medicine
This resource provides guidance about the effective use of drug testing in the identification, diagnosis, treatment, and promotion of recovery for patients with, or at risk for, addiction.
Beyond Antibiotics: A Practical Guide for the Infectious Disease Physician to Treat Opioid Use Disorder in the Setting of Associated Infectious Diseases
Guidelines for the comanagement of OUD and infectious diseases.
Bread for the City
Bread for the City provides harm reduction activities and needle exchange services for those in need at its headquarters located at 1525 Seventh Street, NW only.
Buprenorphine Practitioner Locator
Find practitioners authorized to treat opioid dependency with buprenorphine by state.
CDC HIV Surveillance Special Report: HIV Infection Risk, Prevention, and Testing Behaviors Among Persons Who Inject Drugs
This CDC infographic details findings from National Behavioral Surveillance on behaviors of people who inject drugs in relation to HIV risk, prevention, and testing.
CDC Opioid Prescribing Guidelines
This guideline provides recommendations for primary care clinicians who are prescribing opioids for chronic pain outside of active cancer treatment, palliative care, and end-of-life care.
CDC Pocket Guide: Tapering Opioids for Chronic Pain
Follow up regularly with patients to determine whether opioids are meeting treatment goals and whether opioids can be reduced to a lower dosage or discontinued.